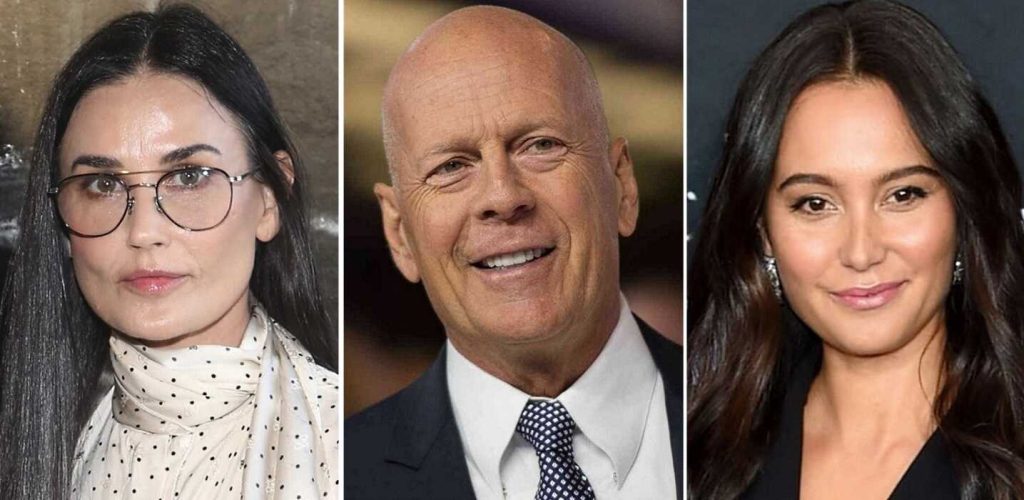 After it became known that the health of 67-year-old Bruce Willis is rapidly deteriorating due to progressive dementia, rumors spread in the media that his ex-wife Demi Moore moved in with him and now lives sharing a house with his current wife Emma Heming. Radar was the first to report this, writing that Moore allegedly helps Emma take care of Bruce. However, Hemming herself denied this information, Daily Mail reports.
"Let's nip this in the bud. It's so stupid. Please stop," Heming said on the social network.
As you know, Willis was diagnosed with frontotemporal dementia. The actor, as close family friends say, is "determined to stay connected and clear as long as possible" and dreams of babysitting his first granddaughter, soon to be born to him by his eldest daughter, Rumer Willis.
On Tuesday, Emma recorded a video where she tried to tell more about her husband's diagnosis in order to raise awareness about the disease and help those who have faced similar situations. She also asked that her family's privacy be respected and that they not be disturbed by cameras.
For first time, Bruce's illness became known a year ago. Then it was about aphasia. This is a complete or partial loss of speech due to damage to the speech centers of the cerebral cortex. A terrible disease may well become a variant of progressive Alzheimer's disease.
For this reason, Bruce Willis announced the end of his career and since then spends every day with his loved ones who are ready for anything for the sake of their beloved husband and father.
Everyone was in shock and asked the main question: why did no one notice anything? After all, Willis was actively filming.
It turns out that lately, Bruce could no longer remember the text, did not always understand what his colleagues on the set were saying to him, and used a hearing aid. And when the disease began to worsen, he made a difficult, but only right decision — to end his career in cinema, sold most of the real estate, and began to lead a closed lifestyle.
The final diagnosis was made to him quite recently. Frontotemporal dementia can include symptoms such as personality changes, speech difficulties, and motor disorders.