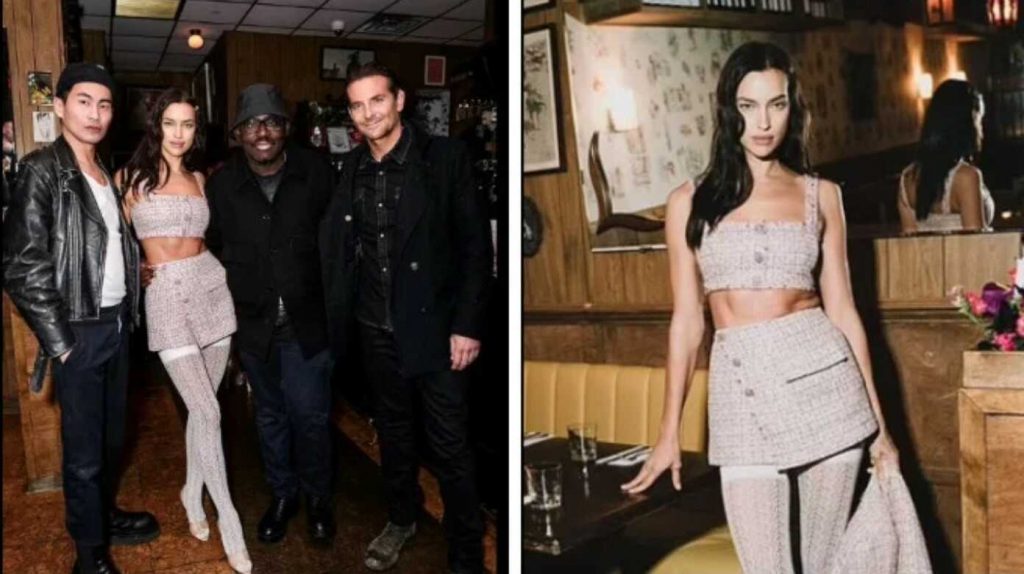 Irina Shayk pleased fans with her latest appearance at a social event — a party organized by the popular American clothing brand Self-Portrait. First, Irina looked absolutely amazing. She appeared at the event in a tweed crop top, which allowed her to show off her perfectly flat stomach, and a mini skirt made of the same fabric, thanks to the extremely short length of which she demonstrated slender legs of infinite length. But it wasn't just how impressive Sheik looked, but also that she arrived at the event with a man, with whom she willingly posed for a photo. And it was none other than Bradley Cooper, her former common-law husband and the father of her only child, daughter Leia. This was reported by Hollywood Life.
Irina's joint appearance with Bradley aroused such enthusiasm among fans because it convinced them that everything is fine in the relationship between Shayk and Cooper, and they are close to a final reunion. And this especially pleased everyone after rumors began to circulate some time ago that Cooper allegedly switched to another beauty — Hillary Clinton's former assistant Huma Abedin. However, the flirtation with Huma turned out to be short-lived and not serious – Irina seems to have managed to get Bradley back. And now she is unlikely to yield to his rival again.
Recall that Shayk and Cooper lived together as civil spouses for more than four years. In 2017, they became parents of a common daughter Leia. However, in 2019, the couple broke up — amid ongoing rumors about Bradley's affair with Lady Gaga. But, although their separation was hardly peaceful, gradually the former lovers began to restore relations. And in the summer of this year, Irina began posting photos from a joint vacation with Bradley in the Bahamas. They posed in an embrace, and in one of the shots, Shayk was captured when she gently put her head on Cooper's shoulder. Later, the couple began to appear at events, and then there were even rumors that the model and actor decided on a second child. Therefore, now the fans who are worried about Irina and Bradley are so happy that they have appeared together again.